With years of experience teaching as a PGA professional, Josh is available to teach across any skill level from beginner to low handicaps. Lessons can involve state-of-the-art detail when taught in the swing studio, or out on the course.
Why Coaching?
We're passionate about helping you play better golf.
Every golfer enjoys the game more when they're hitting good shots and playing well. This is our mission for you.
Think back to your last few rounds and try to pinpoint an area that cost you shots…
Maybe, you had too many three-putts as a result of poor distance control? Or did you miss too many fairways to the right meaning you had to chip out sideways? It could be that you play well in practice rounds with your friends but struggle to replicate that in competitions?
Through our experiences in the game and our PGA education, we appreciate that every golfer is different. That's why we offer a range of lessons and packages to suit everyone.
Lessons will cover:
Golf Fundamentals
Swing Basics
Short Game
Long Game
Course Management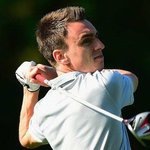 Josh Charnock - PGA Professional
Josh has a wealth of knowledge from his previous 10 years of working in the golf industry. Josh has a love for both the playing and coaching sides of the games and having spent some time around The European Tour has seen how the best players and coaches conduct themselves. Josh is a regular competitor in local PGA events and was previously the winner of the Order of Merit in Shropshire & Herefordshire.
---